Ganesha, also called Ganapati, is the elephant-headed Hindu god of new beginnings, prosperity, and wisdom, who is traditionally worshipped before any major enterprise and is the patron of intellectuals, bankers, scribes, and authors. His name means "Lord of the People" (one meaning of gana is the common people) and "Lord of the Ganas" (Ganesha is the chief of the ganas, the goblin hosts of Shiva).
Ganesha is potbellied and generally depicted as holding in his hand a few round Indian sweets, of which he is inordinately fond. His vehicle (vahana) is the large Indian bandicoot rat, which symbolizes Ganesha's ability to overcome anything to get what he wants. Like a rat and like an elephant, Ganesha is a remover of obstacles. The 10-day festival of Ganesh Chaturthi is devoted to him and begins on the fourth day (chaturthi) of the month of Bhadrapada (August–September), in the sixth month of the Hindu calendar.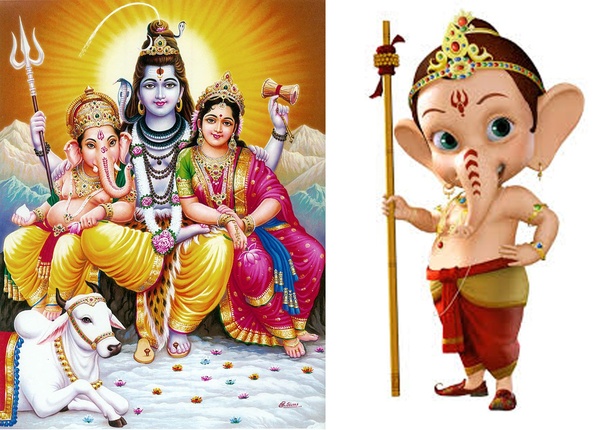 The most popular story about the birth of Ganesha, is the one in which Parvati moulded her son out of sandalwood paste and brought him to life as a human child from head to toe. The myth continues where Parvati instructs Ganesha to guard the entrance while she was in the bath to prevent Shiva from barging in on her, as was his habit. But when Shiva is stopped by this handsome young boy from enter Parvati's private chambers, this enrages Shiva and he ultimately beheads the child for this transgression.
Seeking to undo the damage he had done and make amends with Parvati, who was completed devastated and heartbroken to see her son lying decapitated on the ground, Shiva sent his Ganas to the forest to bring back the head of the first sleeping creature they could find lying with its head to the North, which happened to be an elephant. His followers (the Ganas) came back with the head of a baby elephant and that's how Lord Ganesha came back to life.
It was then when Lord Shiva named Ganesha as the Leader of the Ganas – Ganapati, as well as the Remover of All Obstacles and will be worshipped first at the start of all auspicious ceremonies, thereby giving Ganesha prime importance above all Gods in the Universe.
In some parts of India, Ganesha is depicted as celibate, but in others, he is said to be married to both Buddhi ("Intelligence") and Siddhi ("Success"). Yet other traditions give him a third wife, Riddhi ("Prosperity").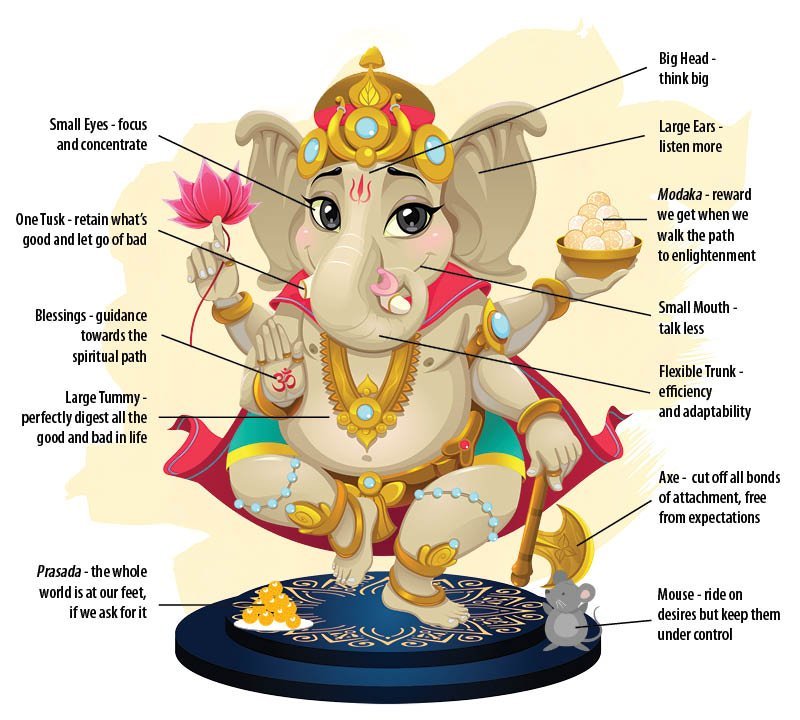 Date and Time Of Ganesh Chaturthi 2020
Ganesha Chaturthi is on Saturday, August 22, 2020.
Madhyahna Ganesha Puja Muhurat – 11:25 AM to 01:57 PM (Mumbai).
Chaturthi Tithi Begins at 11:02 PM on August 21, 2020.
Chaturthi Tithi Ends at 07:57 PM on August 22, 2020.
Ganesh Visarjan is on Tuesday, September 1, 2020.
At the start of the festival, idols of Ganesha are placed on raised platforms in homes or in elaborately decorated outdoor tents. The worship begins with the pranapratishtha, a ritual to invoke life in the idols, followed by shhodashopachara, or the 16 ways of paying tribute. Amid the chanting of Vedic hymns from religious texts like the Ganesh Upanishad, the idols are anointed with red sandalwood paste and yellow and red flowers. Ganesha is also offered coconut, jaggery, and 21 modaks (sweet dumplings), considered to be Ganesha's favourite food.
At the conclusion of the festival, the idols are carried to local rivers in huge processions accompanied by drumbeats, devotional singing, and dancing. There they are immersed in the water, a ritual symbolizing Ganesha's homeward journey to Mount Kailash — the abode of his parents, Shiva and Parvati.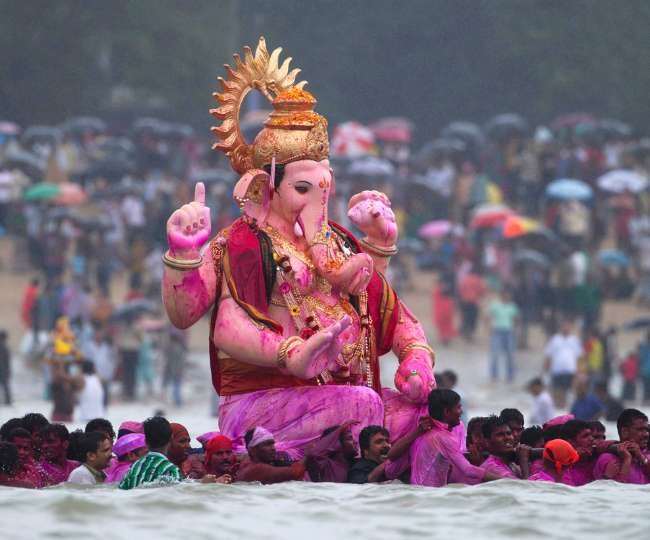 Divinity World wishes you a Happy Ganesh Chaturthi! May Lord Ganesha bless you and your family with good fortune and wisdom and remove all obstacles and difficulties in your life path!