Kundali Milan
Before a marriage decision, the Kundali Reading for Marriage for every prospective bride and groom are assessed for compatibility. This matchmaking test is called Guna Milan and consists of 8 aspects on which the couple is assessed. The overall score generated from the matching Gunas in each test is calculated to decide if the association will be successful.

On the basis of the Janam Kundli of the duo, the eight Gunas are calculated to derive the Kundali Reading for Marriage. The compatibility between these eight Gunas helps determine the stability and affinity in a marriage.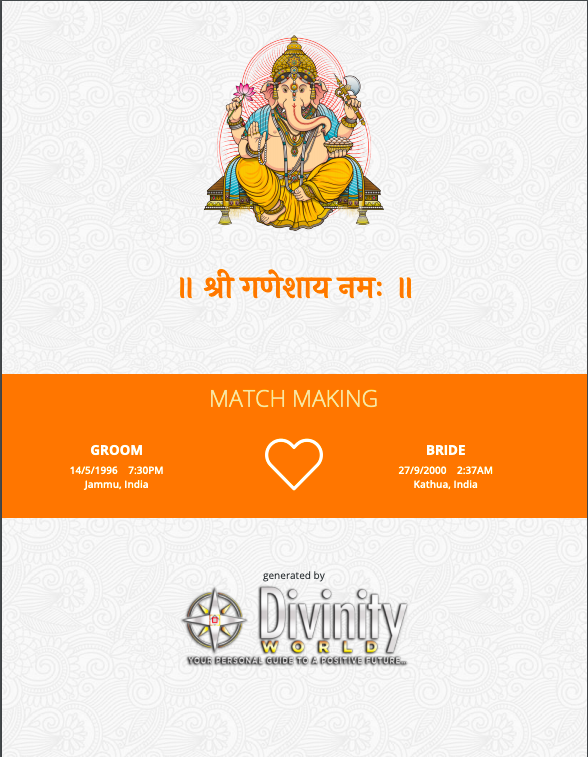 ₹999.00
DESCRIPTION

ADDITIONAL INFO
Kundali Reading for Marriage is a comprehensive report which includes Ashtakoot or Dashkoot Milan analysis, detailed interpretation of each of the Ashtakoot Milan points as well as Manglik matching with Vedha and Rajju Dosha.
Get your Ascendant report covering Ascendant sign, its Lord, symbol, characteristics etc. It will also provide details on the nature, personality, traits, hobbies and appearance of the person born in that particular Ascendant.
Get comprehensive Dosha – Manglik, Sadhesati, Kalsarpa analysis covering it's effect on a person's life and effective remedies for the same.
Also know your Astrological Gemstone recommendations for Life Stone, Benefic Stone and Lucky Stone. Know the appropriate weight of the gem, the metal the ring should be made of, mantra to be recited, the day and time it should be worn, cautions to be taken, etc.
Premium Kundli Milan Features
Astrological Details For Bride & Groom
This detail covers basic astrological points such as Moon sign, Sun sign, Nakshatra and their lords and complete Avakahada details.
Planetary Positions for Bride & Groom
Complete detail of Planetary positions include planets with their full degrees, sign lord, house, Nakshatra and their lord along with Ascendant.
Ascendant Chart, Navmansha Chart and Moon Chart together making it easy for analytical reading. the meaning and significance of each Chart.
Get important life events details for both partners with Vimshottari Dasha system analysis.
Manglik Dosha For Bride and Groom
Exclusive Manglik analysis includes Manglik percentage of both the partners and their analysis with the result.
Ashkoot Details & Analysis
Traditional Ashtakoot calculations helps in getting matching points of both the partners and analyze the kundli matching.
North Indian, South Indian, East Indian Style of representation makes it easier and comfortable to read the horoscope and also to calculate Select various different styles of horoscopes available.
This is Grah-Maitri Koot Matching. This indicates the harmonization of temperaments and attitudes of the bride and the groom.
Final Kundli Milan Conclusions
Result and final analysis of the matching profiles give you marriage recommendation taking in to account the Ashtakoota, Manglik, Vedha and Rajju Dosha.
Premium Kundli Milan Report