Ganesh Shubh Labh is the prayer for the prosperity which is based on Beej i.e. seed Mantra of Lord Ganesha. This mantra is dedicated to Lord Ganesha which can be chanted on Tuesdays for good fortune.
A concise form of this Mantra, suitable for multiple rapid repetitions or chanting, is simply: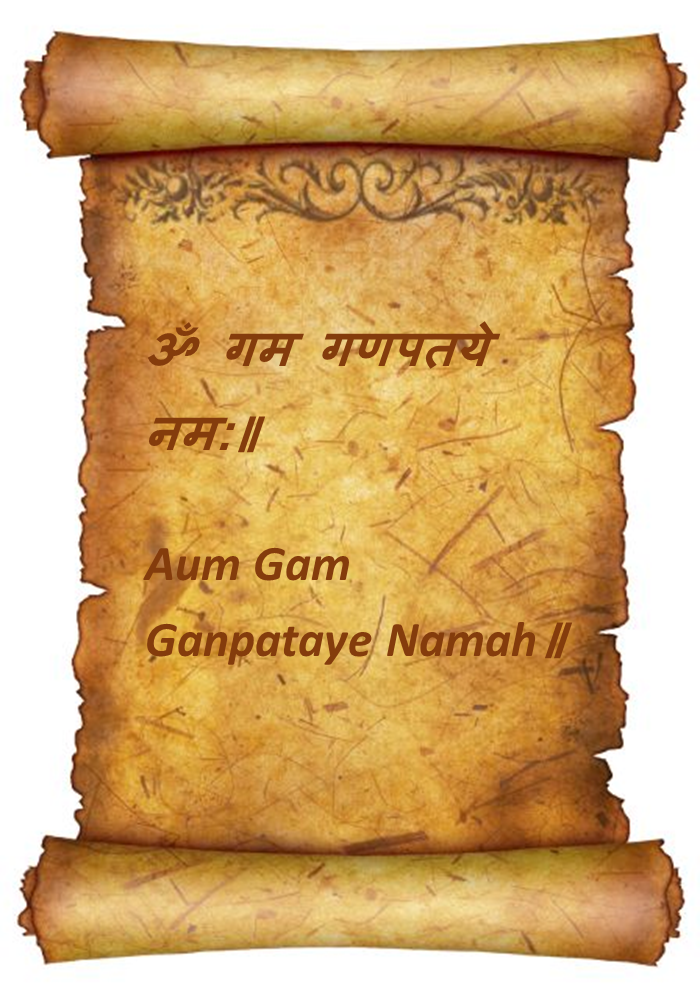 English Translation:
""Om Salutations and Prostrations to Lord Ganesha."
This mantra invokes the Lord Ganesha, to remove every impediment in your life and in your works. By constant meditation on this mantra, all obstacles and blocked energy in your physical and astral bodies are released.
This is a mantra from Ganapati Upanishad. One may always use it before beginning a journey, a new course in school, new career or job, or before entering into any new contract or business so that impediments are removed and your endeavor may be crowned with success.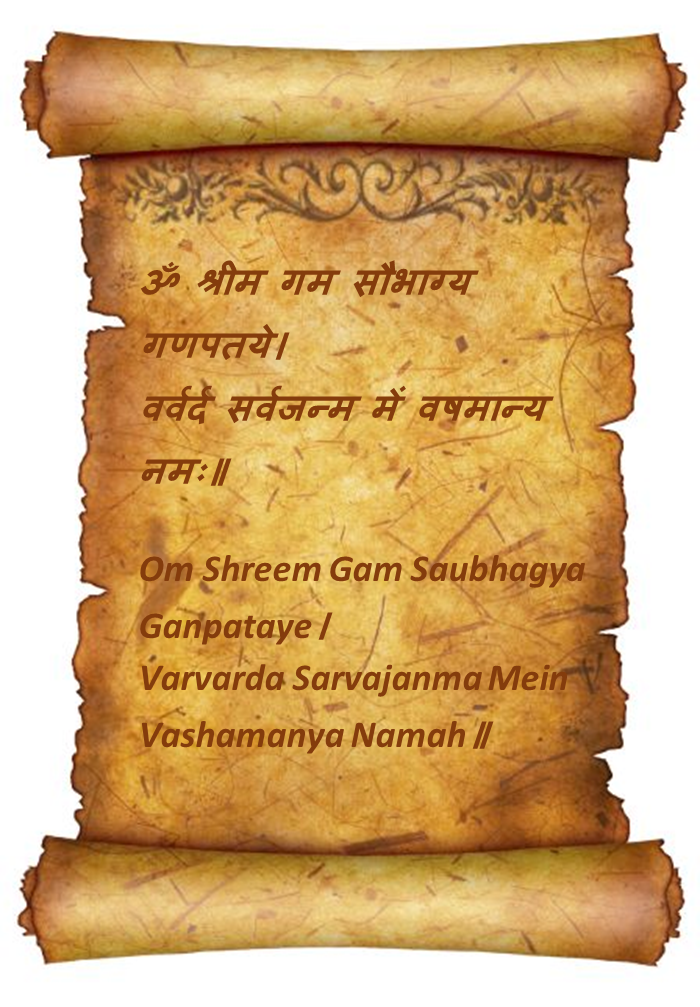 English Translation:
"We ask for good fortune and many blessings and wishes for our current life and future lives.
We bow in Homage to Lord Ganesha who blesses us with long lives, health and happiness."
Significance:
Ganesh Shubh Labh is the prayer for the prosperity which is based on Beej i.e. seed Mantra of Lord Ganesha. Lord Ganesha is worshipped first among all the other Gods in Hinduism. While performing any Puja, the elephant-headed god is first offered prayers so as to avoid any obstacles (Vighna). Also popular as Ganpati, Ganesha grants wisdom and blesses devotees with prosperity.
We write Shubh Labh while worshiping the deities together, which stands for Good luck and Benefits. Lord Ganesha is well known as a symbol of good luck and good beginnings. He is well known as the remover of obstacles and troubles. It is believed that writing the words 'Shubh Labh' with turmeric or vermilion, Lord Ganesha and Goddess Laxmi are pleased. Obviously, when they are happy, you stand better chances of having good luck and benefits.
Shubh Labh yantra is a combined Yantra of Laxmi and Ganesh and is called Maha Yantra. Through Ganesh Yantra one attains Siddhi and through Laxmi one is blessed with wealth. Shubh Labh yantra can be placed in Puja Ghar, in cash box, Almirah. Shubh Labh yantra is energized by reciting its Beej mantra 1008 times and also the homa is performed with 108 mantras.
Best Time to Chant:
Although Lord Ganesha can be worshiped every day, Divinity World recommends the best days to initiate this mantra as Tuesdays or Chaturthi thithi days. One can chant or recite this mantra for 9, 11, 33 or 108 times. One can use Quartz crystal Rosary beads or Rosary of Rudraksha beeds as jaap maala. Never use Tulsi mala while doing Japa of Ganesh Shubh Labh Mantra.
The ideal time to chant Ganesh mantras is early morning at Brahma Muhurat between 4-6 am. With a fresh and relaxed mind. Take a bath and chant the Aum Shreem Gam Saubhagya mantra with full focus, attention, devotion, and love. The perfect position is sitting on a puja mat.
Master the right pronunciation, so you don't chant the wrong words and then chant the mantras. Put the picture of Lord Ganesh in front of you, or you can simply sit in a silent, tranquil place facing the rising sun in the morning to do the chanting.
Benefits of Aum Shreem Gam Saubhagya mantra:
Chanting the Ganesh Mantras with faith and devotion can help win the blessings of Lord Ganesh. Lord Ganesha with Goddess Lakshmi, grants money, wealth, good fortune, prosperity, abundance, possessions, peace, and all material successes. Ganesh Mantra not solely gives the award of one's efforts but stimulates one's progress and support to become a better self in life.
People usually don't chant Aum Shreem Gam Saubhagya Mantra for health issues, but while chanting of the mantra, chanter's blood circulation and nervous system get direct healing by his mantras. Eliminates each and every competitor of chanter's life and s/he gets focus and precision. Chanting of this mantra also removes fears and phobia.