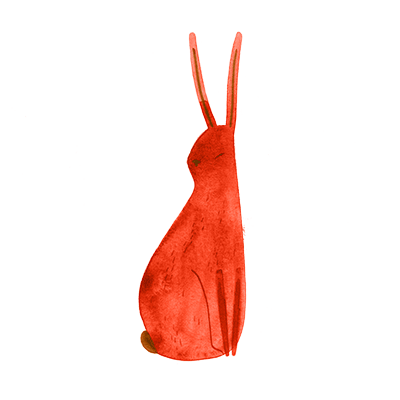 The Rabbit is the fourth of all zodiac animals. Legend has it the Rabbit was proud—arrogant even—of its speed. He was neighbors with Ox and always made fun of how slow Ox was. One day, the Jade Emperor said the zodiac order would be decided by the order in which the animals arrived at his party. Rabbit set off at daybreak. But when he got there, no other animals were in sight. Thinking that he would obviously be first, he went off to the side and napped. However, when he woke up, three other animals had already arrived. One of them was the Ox he had always looked down upon.
The Rabbit is also associated with the Earthly Branch (地支—dì zhī) mǎo (卯) and the hours 5—7 in the morning. In the terms of yin and yang (阴阳—yīn yáng), the Rabbit is yin.
In Chinese culture, rabbits represent the moon. Some say it is because the shadows of the moon resemble a rabbit. Others say it is because of the rabbit's pure characteristics.
Rabbits are earnest with everything they do; they just ask that others treat them the same way.
Recent years of the Tiger are: 1927, 1939, 1951, 1963, 1975, 1987, 1999, 2011, 2023
Paired with the Celestial Stems (天干—Tiān gān), there is a 60-year calendrical cycle. Although mǎo is associated with metal, the years also cycle through the five elements of nature (五行—wǔ xíng).
See the table below for the full details of each year.
| YEAR | CELESTIAL STEM | EARTHLY BRANCH | ZODIAC | ELEMENT | YIN YANG |
| --- | --- | --- | --- | --- | --- |
| 1924 | zi | jiǎ | Rat | Wood | Yang |
| 1936 | zi | bǐng | Rat | Fire | Yang |
| 1948 | zi | wù | Rat | Earth | Yang |
| 1960 | zi | gēng | Rat | Metal | Yang |
| 1972 | zi | rén | Rat | Water | Yang |
| 1984 | zi | jiǎ | Rat | Wood | Yang |
| 1996 | zi | bǐng | Rat | Fire | Yang |
| 2008 | zi | wù | Rat | Earth | Yang |
| 2020 | zi | gēng | Rat | Metal | Yang |
Personality and characteristics
To outsiders, the Rabbit's kindness may make them seem soft and weak. In truth, the Rabbit's quiet personality hides their confidence and strength. They are steadily moving towards their goal, no matter what negativity the others give them.
With their good reasoning skills and attention to detail, they make great scholars. They are socializers with an attractive aura. However, they find it hard to open up to others and often turn to escapism.
A plain and routine life is not their style. Though conservative and careful in their actions, they need surprises every so often to spice things up.
| ELEMENT | YEAR | FORTUNE |
| --- | --- | --- |
Men born in the Rabbit year are extraordinarily polite and do whatever they can to avoid conflicts. They have control over themselves and are sometimes conservative. They may seem to be a yes-man, but they have a bottom line that they won't cross.
These men like organizing and decorating, and often help their wives with chores. But that doesn't mean they actually like being responsible for the home. Though a great friend, they don't like becoming too close to someone.
Women born in the Rabbit year love being social. They are thoughtful and treat everyone politely. They are very conscious of their public image and hate violence and arguments.
In love, they are very extreme. There's a clear difference between who they love and who they don't. And they rarely pass that line. But if they love someone, they'll put everything into the relationship. But the deeper they go, the more hurt they can get. These Rabbits are more insecure than other zodiacs and need to be reassured often.
Compatibility
Most compatible with Rabbit: Dog, Pig, Goat
Both Dog and Rabbit wish for a peaceful and quiet life. They'll work towards this and enjoy it together.
Rabbit and Pig have similar personalities and will be attracted to each other. Goats need someone to depend on. Rabbits enjoy taking care of others and complement Goats well.
Least compatible with Rabbit: Rooster, Dragon, Rat
Rabbit and Rooster clash strongly and are the least compatible. Even today's weather can be the reason for an argument.
Dragons have similar goals and interests with Rabbit. However, their personalities may clash.
Relationships with Rats are tricky. With time, differences will appear and it'll become impossible to agree with each other.
Lucky things for Rabbits
Colors: red, pink, purple, blue
Numbers:  3, 4, 9
Directions of auspiciousness: southeast
Directions of wealth: northeast, southwest
Directions of love: east
Unlucky things
Colors: brown, gray, white
Numbers: 5, 11
Careers fit for Rabbits
Because of their empathy and sensitive artistic feelings, people born in the Rabbit year often find creative jobs more attractive. Many are successful in art, music, architecture and literature. They are also suitable for jobs that require observation and attention to fine detail. Examples include translation and business consultation.
As social butterflies, Rabbits have a wide social network. Their friend list includes everyone, from government officials to the average person. So if a career requires social connections, such as PR jobs, a Rabbit would be a good candidate. In addition, Rabbits can try careers that involve decision making. However, they must have a reliable friend by their side to give some advice and tactics.
Health and lifestyle
Health includes physical and mental health.
Physically, Rabbits have nothing to worry about. For the small problems that may occur, the symptoms are obvious. This leads most Rabbits to take things seriously and visit the hospital before it can worsen.
However, they have many bad eating habits. They don't have a balanced diet, with too little or too much of certain foods. This can lead to some problems in the urinary system.
The biggest problem is their insecurity. Rabbits can suffer from anxiety and depression. Try letting go of problems and being prepared for unexpected difficulties.
Rabbits in the Year of the Rat (2020)
Rabbits can look forward to the Year of the Rat. Blessings will continue from the previous year, particularly with regards to love. The Rabbit will be one of the most irresistible of the zodiacs for the entirety of the year; look for romance around every corner.
Your work and home life will also prove to be satisfying. A female friend will be able to guide you through any struggles in your career. However, be on your guard for a possible betrayal from within your friend circle and prepare for mental health issues. Do your best to balance your emotions when you are feeling low. Besides a few hiccups here and there, the year should be good.
Communication is critical for succeeding in the workplace. Rabbits are quiet individuals and will need to work on their social skills with colleagues and superiors to reap the benefits the Year of the Rat brings. Maintaining cordial relationships in all office matters should be a focus. You have it in you to charm your colleagues, and social interactions paired with hard work will bring good fortune. Promotions and financial advances will be on the table. It's up to you to manufacture your success.
Help will come in the form of a female friend. Look out for this lucky advisor, and be prepared to take her counsel. Watch out for betrayal though; a supposed friend might stab you in the back this year.
Lucky Months: January, May, June, October, and December.
Unlucky Months: March, April, August, and November.
Your attention to detail and quiet focus will help advance your educational pursuits. With any assignment, following strict guidelines is a must, and maintaining concentration will be necessary to succeed. However, if you can keep these in mind for your studies, life will be a breeze. And don't forget to entertain social events as well. Building strong relationships during your school years is essential for sanity (and study groups).
Although Rabbits are physically healthy, mentally, they struggle. Anxiety and depression are common ailments. To combat negative thoughts and self-esteem issues, find something that centers you. Think of your best qualities and talents; focus on those for the year. Take a class related to your favorite hobbies or join a support group. If you are losing the battle with depression, visit your primary care doctor for help as soon as possible. The sooner you can fix the problem at its root, the better you will be.
Because stressors from work might get you down, try spending more time outdoors. Being outside in the fresh air is naturally calming. Instead of staring at your computer or phone all day, take a walk, ride a bike, or visit the ocean. Soak up the natural beauty of the world.
Romance will be in full bloom for the Year of the Rat. The Rabbit's innate kindness and compassion will draw mates in from afar. That person you have been eyeing for the last few months might suddenly see you in a new light. Singles and couples will experience enhanced pleasure in their relationships. Enjoy romantic dates, quiet evenings on the lawn, or cozy days indoors. A lucky year for love is on the horizon. For those in committed partnerships, wedding bells will surely be in your future.
The Rabbit's irresistibility is a double-edged sword, however, and married couples should be on the lookout for jealousy and infidelity. If you're the Rabbit in the relationship, be cautious around flirtatious individuals. You don't want to mess up a good thing. Ignore any unwanted advances and keep your eyes on your loved one.
The Rabbit will not have many worries in 2020. Overall, it will be a year full of luck and love. Relationships will thrive, your studies will succeed, and work will be reliable as well. Even though you have a lot of good things going on, be watchful of your emotional state throughout the year. Specific stressors might push you over the edge, and depression could set in. Focus on all of the positive blessings and get help if needed. Remember to use your talents to your advantage: you are kind, compassionate, and smart.
Rabbits in the Year of the Rat (2019)
The 2018 Year of the Dog was successful for most Rabbits, but some had a rather dreary year. The Year of the Pig will prove to be much more successful, although it will have its share of downs as well. Be ready to work hard, stay calm, and adapt to a new scenario as the Year of the Pig makes progress on your dreams.
Overall Rabbits should expect the Year of the Pig to bring the blowing winds of change. You can expect development in your finances, career, and with some relationships as well. Your friends are certain to prove themselves valuable this year when they support your success as well as help you when you are down.
Chinese astrology also suggests that you'll learn to control what you say and how you behave. If you mind your own business and avoid disputes you'll be much better off in the coming year. You should also be aware of traitorous friendships as they could cause a loss of your hard-earned wealth. Remember to be extra careful when taking trips and excursions.
This year will prove to be a lucky year for your career and finances. If you stay the course and remain focused, your effort and value will be apparent to your boss. That long overdue raise or promotion could be just around the corner for Rabbits.
For those ambitious enough to be their own boss, fortune will favor their endeavors as well. Starting a new career or launching a new business could be the way to even better fortune this year.
As always, there are some general setbacks to avoid. The hard work of proving yourself in your career may be stressful at times. A potential betrayal by a friend or close co-worker could also work against you this year. Just remember, if you focus and stay calm everything will sort itself out.
Other potential downfalls this year will come in the form of a jealous coworker. One of the hands that lifted you up may also serve to stab you in the back if you are not careful.
Lucky Months: January 2nd – March 13th, September 4th – December 5th
Unlucky Months: March 17th – August 28th
This year will prove challenging for your education, Rabbits. You will get the grades you desire only if you seriously apply yourself and ignore the temptation to socialize or focus on your relationships. The biggest roadblock will come in the form of distractions, but your biggest advantage will be the favor you find with your professors.
If there is bad luck to be experienced this year, it will surely affect your health first. Remember to make time for exercise, as it builds your strength and boosts your immune system. Eat things that have a high vitamin content to diminish your chances of falling ill.
Be sure to stay away from funerals and graveyards over the coming months to further increase your chances of staying healthy. Spend your time gathered with friends in sunny weather, this will increase your energy and bring good luck to you throughout the year.
You will find yourself challenged with your relationships this year Rabbits. Single Rabbits will not have good fortune in finding a mate in the coming year. Still, you will meet plenty of interesting people that will help to shape your idea of the perfect mate.
If you are already seeing someone now, you need to be a bit more patient; rushing into a relationship could result in failure. For married couples this could be a year to start your baby plan, but you also must work on communication in order to fix any issues between you and your beloved.
To increase your luck; Rabbit women should wear white beads or pearls. Rabbit men should wear jade or carry something yellow.
Rabbits' lifestyle will see many improvements this year. Your good luck will carry you far, but your ability to handle stress combined with your caring and friendly demeanor will push you over the top. This is your year to get ahead, but don't forget to take time to enjoy the little things and recognize the friends that are always there for you. Appreciating this will help you keep these things in your life for years to come.
Be very cautious in the lunar month of August: theft, bodily injury, and potentially a lawsuit could bog you down. Follow the rules of the road closely during this time to avoid accidents. Your horoscope indicates that one of your family members, particularly the more senior family members, will be susceptible to poor health.