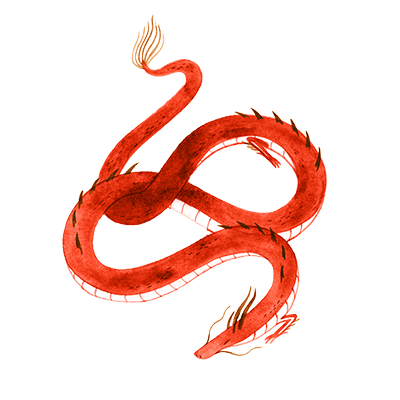 The Dragon is the fifth of all zodiac animals. According to one myth, the Jade Emperor said the order would be decided by the order in which they arrived to his party. Everyone expected the powerful Dragon to arrive early on. However, he came after Rat, Ox, Tiger and Rabbit. When asked why he was so late, Dragon said that on the way, he saw a village suffering from drought. He had to stop and create rain for them. The Jade Emperor was happy when he heard of this noble deed and gave him the fifth position.
The Dragon is also associated with the Earthly Branch (地支—dì zhī) chén (辰) and the hours 7–9 in the morning. In the terms of yin and yang (阴阳—yīn yáng), the Dragon is yang.
Dragons are the most revered animal in Chinese culture. They call themselves the descendants of the dragon. In the past, emperors were seen as the reincarnation of dragons.
Dragons are strong and independent figures, but they yearn for support and love.
Recent years of the Tiger are: 1928, 1940, 1952, 1964, 1976, 1988, 2000, 2012, 2024
Paired with the Celestial Stems (天干—Tiān gān), there is a 60-year calendrical cycle. Although chén is associated with earth, the years also cycle through the five elements of nature (五行—wǔ xíng).
See the table below for the full details of each year.
| YEAR | CELESTIAL STEM | EARTHLY BRANCH | ZODIAC | ELEMENT | YIN YANG |
| --- | --- | --- | --- | --- | --- |
| 1928 | wù | Chén | Dragon | Earth | Yang |
| 1940 | gēng | Chén | Dragon | Metal | Yang |
| 1952 | rén | Chén | Dragon | Water | Yang |
| 1964 | jiǎ | Chén | Dragon | Wood | Yang |
| 1976 | bǐng | Chén | Dragon | Fire | Yang |
| 1988 | wù | Chén | Dragon | Earth | Yang |
| 2000 | gēng | Chén | Dragon | Metal | Yang |
| 2012 | rén | Chén | Dragon | Water | Yang |
| 2024 | jiǎ | Chén | Dragon | Wood | Yang |
Personality and characteristics
| ELEMENT | YEAR | FORTUNE |
| --- | --- | --- |
| Wood | 1964, 2024 | These Dragons live a quiet life with surpluses. If entrepreneurs, their businesses are successful. However, their family and friends are not as dependable. |
| Fire | 1976, 2036 | These Dragons are intelligent and social. They have a breakthrough in the middle years and enjoy prosperous later in life. |
| Earth | 1928, 1988 | These Dragons are positive and cheerful. They do not fear enemies and do not bully the weak. They surround themselves with supportive people and create loving families. |
| Metal | 1940, 2000 | These Dragons are kindhearted but speak bluntly. Talented and strategic, they enjoy success and wealth. |
| Water | 1952, 2012 | These Dragons work hard throughout life and gain reputation and fame. They sometimes overthink and worry, but will smoothly pass through the decades. |
Men born in the Dragon year are steadfast in their beliefs. They will never slack off on responsibilities nor be unnecessarily suspicious. People rarely lose trust in these honest men.
They don't waste money, but also don't pay much attention to it. Adventurous entrepreneurs at heart, they dream of shooting to fame. Sometimes their efforts go to waste though. Still, their lives revolve around work.
These men are completely fine alone. They either marry at a young age or remain as a bachelor. For significant others, they need someone that can help and support his career.
Women born in the Dragon year are mesmerizing and strong. If you underestimate them, they will stand up and defeat you.
They are serious in what they do and have high self-esteems. The only thing they require of others is respect. Feminism and gender equality are important to them.
Many forgo marriage to focus on their career. But if they do choose to marry, they also make great wives. Often, they only go to the extremes and should take the time to consider a balanced mix.
Compatibility
Most compatible with Dragon: Rooster, Monkey, Rat
Dragons are most compatible with Roosters. The Rooster will look up to the Dragon and provide genuine support during hardships.
Both Monkeys and Dragons are creative and innovative. But once together, be sure the Monkey doesn't do any small tricks.
The Rat's humor and reliability are what attracts the stubborn Dragon. The different personalities complement each other.
Least compatible with: Dog, Rabbit, Dragon
Dragons and Dogs have clashing personalities and are least compatible. Neither trusts nor understands the other.
Rabbits have some similar interests as Dragons, but they can only tolerate each other to a certain extent.
Dragons aren't compatible with themselves each other. Both independent and stubborn, they'll clash and it's hard to maintain a peaceful relationship.
Lucky things for Dragons
Colors: gold, silver, gray
Numbers: 1, 6, 7
Mineral: rose quartz
Directions of auspiciousness: southwest
Directions of wealth: northwest, north
Directions of love: west
Unlucky things
Colors: white
Numbers: 4, 9
Careers fit for Dragons
People born in the year of the Dragon have quick paced thinking. They excel at activities that most find mentally exhausting. Because of this, they are suitable for engaging careers. Some fields include the arts, politics and education.
They might feel insecure and indecisive when working alone. Instead, they're better able to unleash their potential in a team. Dragons are great at planning and coming up with ideas. But they need someone else to help with the miscellaneous details.
Dragons are fighters. This is the foundation for success, but can also hinder personal development. Dragons must remember to be more low-key and create lasting relationships.
Health and lifestyle
Dragons have a healthy appearance and truly are healthy as well.
They don't usually get sick, but when they do, it becomes very serious. This is because they are too busy with work to pay attention to their health. They might also think it's no big deal and brush it off. Due to this, minor colds can turn into much more serious illnesses.
Areas of concern are the circulatory, urinary and digestive systems.
Most Dragons have stressful careers and are overly sensitive to small details. They can become fatigued, but also suffer from insomnia. Disturbances in social and family relations will heavily affect their mental health.
For better health, Dragons must remember to keep calm and relaxed. Don't overthink and obsess over small problems. Instead, Dragons should take some time out for themselves. Exercise in nature will help with physical and emotional fatigue.
Dragons in the Year of the Rat (2020)
Revered in Chinese culture, the Dragon will do well in the Year of the Rat. With luck on your side, 2020 should be smooth sailing. Your focus should be career-centered as the Dragon's horoscope suggests. If you play to your talents, you will succeed. Work will consume you, and therefore, relationships will slip to the sidelines. Spending time alone will be good for personal growth in all areas—prioritize yourself!
Strong and independent, Dragons will do well in their careers in the Year of the Rat. Because the Rat and the Dragon are most compatible, success will be yours for the taking. A promotion might be just around the corner, so keep up the good work and show off your talents. Now is the time to act on any new ideas for your career. A small business plan could turn into a profitable corporation.
Even though you are very capable of achieving your goals solo, teamwork is essential. Working well with your superiors and colleagues will undoubtedly help your business ventures succeed. Just be wary of your intensity in relationships at the office. It might be a turn off to others and will sway them in the opposite direction of your goals.
Lucky Months: February, July, August, and November.
Unlucky Months: April, May, September, and December.
The stars are on your side this year. Look forward to the year of the Rat with its many blessings. As motivated students and eager planners, Dragon's educational studies will be a breeze. If you can keep your eye on the ball for the entirety of the year, you will do well. Everything else will fall into place. However, be mindful of your temperament; your headstrong attitude may scare people off. Tone yourself down in conversations with friends and discussions in lectures, and practice being a good listener. You might even end up leading others in a study group or debate class.
Dragons are blessed with excellent health, both mentally and physically. They can push their limits and do more than the average individual. However, sickness does not escape the Dragon. Just like the other zodiacs, they are susceptible to colds and minor illnesses. Although it is rarer to come down with something, when it does happen, it hits hard. Instead of pushing through like normal, address the symptoms when they first show up. Use essential oils and preemptive medicines to ward off sickness. Be mindful of circulatory and digestive issues throughout the year.
As highly motivated workers, it's challenging to slow down and take personal time. Because Dragons continually go above and beyond in the workplace, they can face exhaustion easily. Learn how to pace yourself in stressful situations to avoid burning out.
Independence will suit you well for the year. Relationships will not be the focus for 2020. Although this might seem like a negative forecast, it is not. There is always time to be self-centered and introspective. You might learn something new about yourself. Use this year to explore new things outside of relationships. A pottery class, yoga, lifting—just about anything works. If you're lucky, you might even find someone who suits you in these experiences. If you do end up in a relationship for the year, enjoy time apart. Independence is an essential part of a healthy relationship.
For married Dragons life will be smooth if you can put in the time and effort. Stubbornness might get in the way of your overall relationship satisfaction. Tread lightly during heavy conversations. If you need to cool off, take some space to regroup your thoughts, and start over. Being able to communicate is a significant factor in a happy marriage.
The Rat will be a year of good fortune for the Dragon. The relationship between the Rat and the Dragon will multiply success. Of all the forecasts, your career will benefit the most. Work hard to accomplish your goals, but don't push yourself past the breaking point or you may end up in bed for weeks. Focusing on yourself in all aspects, from health to relationships, will be best. Enjoy this lucky year!
Dragons in the Year of the Rat (2019)
In 2019, the cerebral and clever approach of the Dog will quickly transform into the direct and unmediated outlook of the Pig. Dragons will surely master this approach and entertain many opportunities this year as long as they stay focused and collected. Maintaining good deeds and charitable acts is equally important to ensure that your luck will last throughout the year.
The Year of the Dog held some challenges for Dragons. It was not without its good moments but this year you will see less obstacles in your path. Several lucky stars shine on your efforts as the Year of the Pig fosters some affection for Dragons. However, you are not wholly compatible with the Pig, so you must learn to be more compliant this year and less stubborn.
Dragons' career outlook is very favorable this year. Those who work on commission such as salesmen, realtors, or financial advisors can expect a steady increase in revenue and a nice bonus on one of their larger contracts. There is a good chance word of mouth has helped your reputation spread so don't forget the friend or coworker who promoted your business.
Entrepreneurial Dragons can expect their endeavors to flourish this year. New careers or businesses will be off to a good start, but will be even more successful if you partner up with a Monkey or Rat.
Lucky Months: January 8th – June 19th
Unlucky Months: July 11th – October 29th
Dragons will see a significant improvement in their studies as your motivation increases this year. If Dragons can keep this up, they will be able to absorb and retain knowledge easily. Consequently, the Year of the Pig is a suitable year for taking exams.
If Dragons become too stressed over their studies, however, they risk altercations with classmates or teachers. In order to stay positive, Dragons must manage their stress accordingly. Relaxing activities such as guided meditation and yoga will help them to stay calm.
There are no negative health threats or serious illnesses on the horizon this year for Dragons. If they are particularly lucky, an existing condition will lighten its burden over the coming months.
For the more senior Dragons, there may be some dietary complications. Be sure to monitor your diet at home and when dining out.
The Year of the Pig will be a "Peach Blossom" year for Dragons, a year lucky in love and full of excitement for those still searching for that special partner. Both male and female Dragons will have their pick from an abundance of eligible mates; but take caution if you are persuaded to have casual flings this year as they may sabatoge long term prospects.
For Dragons who have already bridged this gap and are in a committed relationship, this year will see some checkered success for you. Be careful what you say when you are upset and learn to problem solve by communicating. Some might say miscommunication is the Dragons' greatest weakness. Do not ignore small problems this year in your relationships as they are the beginning of larger issues to come.
Dragons prefer to dream about their goals and take on project after project. During this year, Dragons must survey their achievements and take some time to enjoy the fruit of their labor. Despite the success you find this year, you must not get caught up. Take time to cultivate your spiritual traits and share time with your family to fill your home with a calmer Qi.
Your health will not give you major cause for concern this year, but you do need to pay attention to minor illnesses. Don't ignore them; go see a doctor when you are not feeling well. However, frustration over a series of setbacks in your career or finance could increase your stress level, so you must learn to relax and to release your stress. Meditation and Yoga are good approaches to ease your stress. And if you can, go to your doctor and have a checkup sometime this year.